News Archive
Norfolk County Council is re-opening eight of its larger recycling centres on Monday 11 May so that Norfolk householders can dispose of waste and recycling that may have built up at home and has started to pose a health and safety risk since the Government announced its 'lockdown' measures.
To manage demand and help ensure safe operations, the centres will offer a restricted service and:
Require social distancing of two metres by all customers
Operate on a managed one in one out basis for cars
Only allow two adults out of a car to unload their waste Assistance will not be offered to help empty cars
Be aimed at cars and car derived vans only to manage demand on the service
Provide for the disposal and recycling of the main waste streams including green waste, general waste and charged for DIY type construction and demolition waste
In line with the Government's advice to stay at home, people should only make a journey to the recycling centre if their waste or recycling cannot safely be stored at home. And if you or anyone in your household has Covid-19 symptoms you must not visit a centre at all. Please try to avoid visiting sites during the busy periods which are usually weekends and mornings and most importantly of all, please follow any advice given by centre staff – for your and their health and safety on site.
The eight sites re-opening are:
Caister, Dereham, Hempton, Ketteringham, King's Lynn, Mayton Wood, Mile Cross and Thetford
Open: 9am - 5pm
For site information and guidance on using Norfolk County Council recycling centres during Covid-19 visit www.norfolk.gov.uk/recyclingupdates
Currently we are continuing to remove all garden waste, recyclables and non-recyclables. Due to an increase in packaging, garage clearance and gardening the bins are becoming overloaded. The bin lorries will still take a limited amount of waste, but once they are full will not return to complete a round. Social distancing measures also slow down the collection service and the recycling centre at Costessey is running at full capacity. Can residents please ensure that they spread out waste material to maintain an even flow for collection.
Thank you – Adrian Dearnley, David Bills and Phil Hardy. District Councillors
The world-wide challenge of fighting the Covid-19 Coronavirus is impacting everyone and Bawburgh is playing its part.

All of the village's events have been cancelled for the foreseeable future to maintain social distancing.
The Youth Club, Social Club, Baby and Toddler Group, Church Services, Coffee Morning, the 50/50 Club, Friends of Bawburgh Church events, History Group and the Mobile Library have all been put on hold.
The Community Car is not running.
The Parish Council is compiling a list of people in the parish who may have particular needs as a result of their age, underlying health concerns or difficulties they may have getting shopping or medicines. If you may have difficulties, please let David Goodman know by emailing him at: goodmanraf@aol.com or by phone on: 01603 748741
If you are able to help and are not-self isolating, he is also happy for you to get in touch and volunteer.
You can also cut out the leaflet on page 9 of the Bawburgh News and drop it through the door of someone you are wiling to help.
The Bawburgh School is closed but will be open to children of 'key workers'. The school will inform parents if their child has a place, however this should be considered as emergency cover and the best place for your children is at home.
The shop in Little Melton have posted on their Facebook, "we will deliver supplies (subject to availability) to anyone feeling poorly and not able to come out." Telephone your order to:

01603 810321

.


Sainsbury's at Longwater are holding special shopping hours for the elderly and NHS workers. Check their website for details:

www.sainsburys.co.uk

Please also be aware that some people are using the virus to send out emails and calls pretending to be from the government offering money and asking for your bank details. These are scams. Do not give your details to anyone on the phone or by email.
On Monday 24th March the Government announced that everyone should stay in their homes and only go out to get food, medicines, exercise once per day or go to work, if absolutely necessary.
With most shops, events and libraries being closed or cancelled, keeping healthy and happy while keeping safe is really important.
Norfolk libraries lend out electronic versions of books and access to audio books. Details can be found at:
www.norfolk.gov.uk/libraries-local-history-and-archives/libraries/find-an-item/ebooks-and-eaudio.
Many modern TVs and all computers can provide access to the BBCs iPlayer and YouTube.
Each morning at 9:00am Joe Wicks runs an exercise class on YouTube and others are also available.
Children can continue their education with many YouTube and BBC Bytesize programmes available, as well as access websites with free educational activities.
Jack Monroe offers an excellent website providing recipes for when money or food is limited.
cookingonabootstrap.com
Please also remember that you can ask for help. There are many people in the village who will be willing to help get shopping and medicines for you if you can't get out. Please let David Goodman, the Parish Council Chairman know.:
goodmanraf@aol.com or by phone on:

01603 748741
And now is a great time to get all those jobs done which you have always said you would do, "when you had the time".
Stay safe, stay well, keep busy.
The Kings Head has just been awarded 'Pub of the Year' and 'Tastiest Food & Drink' in South Norfolk Council's pub of the year awards.
The public voted during August and September for their favourite pubs and then the winning pub was awarded their title. Following on from this in September all four categories were visited by judges from South Norfolk Council who decided on an overall winner to be awarded the title of 'South Norfolk Community Pub of the Year'.This was announced at a ceremony held at the previous winner's pub on 7 October. The Kings Head attended the awards and came away with the titles of 'Tastiest Food & Drink' and 'Community Pub of the Year'.
Head Chef Jake Armes who attended the awards spoke of his delight, "It is great to receive recognition for the hard work put in by the team over the last year. The determination by the team to ensure our food and service is always excellent and improves year on year has been recognised and we are all ecstatic about this".
Owner Anton Wimmer has been at the helm for over 36 years and has seen the pub go from strength to strength "I am so pleased that the team we have here at the Kings Head has been recognised not only for their tasty food and drink but their enthusiasm, imagination and determination that has ensured we do not rest on our laurels. Instead the young and vibrant team have driven us forward in ensuring the community we serve are happy time and time again when visiting and have developed new events and initiatives all with a smile on their face. The judges recognised and praised this and I am a very proud landlord!"
The King Head receive £500 in prize money to spend on an event for their community and are already putting together plans for how this can be spent for everyone's enjoyment.
The Kings Head Bawburgh would like to thank everyone who voted and all those who have supported us by visiting, and we look forward to hosting our community event soon!
With thanks to https://proudlynorfolk.co.uk

Sincere thanks from Bawburgh Village Hall Management Committee to Eleanor Williams and her friend Anya who both made a stunning job of painting the new container behind the Village Hall. This was bought for storage and replaces the old wooden sheds. Definitely worth a visit.
On behalf of the Community Panel Members of Norfolk Youth Offending Team, can I thank all of you who took the time to vote online for this award nomination.
Amazingly we won the OSCA overwhelmingly and are all very proud of our achievement.
David Goodman
T
he school have recently received the fantastic news that their project has been successful in the Aviva Comunity Fund competition. The school will be awarded £10,000 to buy and concert a double decker bus into a much needed library and extra classroom and nurture space.
The Aviva Comunity Fund is an initiative that helps to strengthen local communities by offering practical support and funding for inspiration local causes. Projects could receive funding from £1,000 up to £25,000. The nationwide initiative, now in its fourth year, called upon local suppporters to champion a project in their area to be in with a chance of securing fuding. Each organisation had to galvanise the support of their local community to vote for their entry in one of three categories.
Bawburgh School thanked everyone who voted for the Bawburgh Big Ideas Bus. "Everyone at the school is delighted - your votes reallt did count and we can't wait to make this porject a reality. Thank you so much to those who have already volunteered their time and skills going forwards - as things get underway we would love to involve as many people as possible so, if you think you have any skills or time which you could volunteer, please contact kate.
As part of a national review of electoral boundaries, the Parish of Bawburgh will be getting smaller from May 2019.
Following a consultation, it has been agreed that The Hampdens (the new estate on Dereham Road) will move to Costessey Town Council as this makes more sense geographically. In addition, the B1108 Watton Road will become the dividing line between Little Melton and Bawburgh, meaning that some households will move between the two parishes.
Map of Bawburgh Parish boundary changes
Bawburgh's electoral roll will reduce by about half and revert to its former size of about ten years ago. This will mean a reduction in the number of Parish Councillors from seven to five.
Parish Council Elections
Thursday 2 May is the date set for local Parish Council Elections and, due to the changes in the parish boundary, Bawburgh Parish Council will be reduced from seven to five seats.
If you are interested in becoming involved in serving your local community or wish to stand for election, we would like to hear from you to explain the work of our Parish Council, and how we work to maintain an enduring community life in and around Bawburgh Village.
Contact the Parish Clerk (Nicola LeDain) or speak to a current Councillor for more information.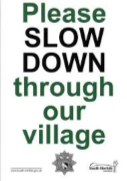 The SAM2 speed recording machines have been recording the numbers and speeds of vehicles through our village. Parish Councillor, Mark Tudor has given Bawburgh News the information from the machines. This data was recorded between 29th August and 2nd November and showed that 74,416 vehicles passed through the village. On average, during the week days there were 1,196 vehicles and at weekends there were 1,123 vehicles per day. During the week the peak traffic is between 7am and 8am but at the weekend this changes to between 4pm and 5pm. The machines class a driver as speeding if they travel over 35 mph, despite the speed limit being 30 mph. 16% of all vehicles travelling through the village are speeding. The most number of speeding vehicles are recorded on Tuesdays. The average speed of speeding drivers is 39.2 miles per hour, quick enough to be prosecuted and quick enough to comfortably kill any pedestrian. The highest recorded speed in this period was recorded at 65 mph at 6am on the 12th September. Mark said, "We continue to have a huge problem with speeding motorists. We have re-formed the Speedwatch Team and they will attend various sites across the village to capture driver information to provide to the authorities. If there are more than 11 instances of speeding in any vicinity then the Traffic Enforcement Team will attend and they have the powers to prosecute." In Summary: It is inexcusable to be speed in any villageIt is totally unacceptable to be speeding in your own village!So let's STOP speeding in Bawburgh!