As part of a national review of electoral boundaries, the Parish of Bawburgh will be getting smaller from May 2019.
Following a consultation, it has been agreed that The Hampdens (the new estate on Dereham Road) will move to Costessey Town Council as this makes more sense geographically. In addition, the B1108 Watton Road will become the dividing line between Little Melton and Bawburgh, meaning that some households will move between the two parishes.
Map of Bawburgh Parish boundary changes
Bawburgh's electoral roll will reduce by about half and revert to its former size of about ten years ago. This will mean a reduction in the number of Parish Councillors from seven to five.
Parish Council Elections
Thursday 2 May is the date set for local Parish Council Elections and, due to the changes in the parish boundary, Bawburgh Parish Council will be reduced from seven to five seats.
If you are interested in becoming involved in serving your local community or wish to stand for election, we would like to hear from you to explain the work of our Parish Council, and how we work to maintain an enduring community life in and around Bawburgh Village.
Contact the Parish Clerk (Nicola LeDain) or speak to a current Councillor for more information.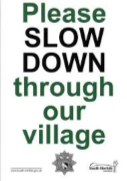 The SAM2 speed recording machines have been recording the numbers and speeds of vehicles through our village. Parish Councillor, Mark Tudor has given Bawburgh News the information from the machines. This data was recorded between 29th August and 2nd November and showed that 74,416 vehicles passed through the village. On average, during the week days there were 1,196 vehicles and at weekends there were 1,123 vehicles per day. During the week the peak traffic is between 7am and 8am but at the weekend this changes to between 4pm and 5pm. The machines class a driver as speeding if they travel over 35 mph, despite the speed limit being 30 mph. 16% of all vehicles travelling through the village are speeding. The most number of speeding vehicles are recorded on Tuesdays. The average speed of speeding drivers is 39.2 miles per hour, quick enough to be prosecuted and quick enough to comfortably kill any pedestrian. The highest recorded speed in this period was recorded at 65 mph at 6am on the 12th September. Mark said, "We continue to have a huge problem with speeding motorists. We have re-formed the Speedwatch Team and they will attend various sites across the village to capture driver information to provide to the authorities. If there are more than 11 instances of speeding in any vicinity then the Traffic Enforcement Team will attend and they have the powers to prosecute." In Summary: It is inexcusable to be speed in any villageIt is totally unacceptable to be speeding in your own village!So let's STOP speeding in Bawburgh!