Good News!
The school's 'Bawburgh Bus project' has been shortlisted for the finals of the Aviva Community Fund!! We are now down to a 1 in 3 chance of being awarded the funding, A huge thank you to everyone who voted and encouraged others to vote too - just goes to show what can be achieved by a small community. Fingers crossed for the next stage
Cosultations Launched on Western Link Road
Norfolk County Council have launched a public consultation about four possible routes for joining the A47 to the new Broadland Northway Road.
A public consultation on these routes will run between Monday 26 November 2018 and Friday 18 January 2019. During the consultation, people will be asked for their views on the options and these responses will help the council identify a preferred option for a Norwich Western Link in spring 2019.
You can find out more about the options and respond to the consultation online via www.norfolk.gov.uk/nwl from Monday 26 November. You can also respond in person, and ask any questions you may have, at a series of staffed events taking place in local communities throughout the consultation period.
Three new dual carriageway roads and a single carriageway upgrade to the B1535 make up the shortlisted options.
While the majority of the new or improved roads would be built at or near ground level, viaduct-style bridges over river flood plains are included in some of the options. All of the routes also include improvements to the A1067 Fakenham Road.
The consultation meetings are usually between 2pm until 8pm (unless otherwise stated) and are due to be held in the following places:
· Wednesday 28 November at Ringland Village Hall
· Monday 3 December at Drayton Village Hall
· Tuesday 4 December at The Forum, Norwich (12-5pm)
· Wednesday 5 December at Hockering Village Hall
· Monday 10 December at Easton Village Hall
· Tuesday 11 December at Taverham Village Hall (12–6pm)
· Wednesday 12 December at Hall for All, Weston Longville
· Friday 14 December at Salvation Army Church, Fakenham

The Bawburgh Big Ideas Bus
What's the Big Ideas Bus?
A creative way of trying to tackle the need for more room at the school... Purchasing a bus and converting it would be a way to create two new learning spaces for the whole school to use. The hope at the moment is to turn the top deck in to a new library and cosy reading space. Something like this:
The bottom deck would be a more open space which could be used for a wide range of things – small group work, lunchtime clubs, music lessons. In addition, moving the library onto the bus would free up the existing library space in the school, creating another much needed space indoors. This would become a 'nurture space' – somewhere comfortable and calmer for those who find crowded and sometimes noisy classrooms a challenge. This would be a hugely valuable resource for calmer small group or 1:1 work for pupils who need some time and space away from the bigger group.
What do we need you to do?
We have entered the project into the Aviva Community Fund for a grant to make this happen. How this works is that we need people to go online and vote for our project. The projects with the most votes get shortlisted and a panel of judges decide on the final grant recipients
We think that to be in the running we need at least 4000 votes. Each individual can cast 10 votes. Please, please, please could you take 5 minutes to register with the Aviva Community Fund and vote for our school.
You do have to register your details to vote but it really only does take a few minutes and you will only receive a handful of emails about the community fund.
Please go to https://community-fund.aviva.co.uk/voting/campaign/getinvolved and search for the Bawburgh Big Ideas Bus. Voting opens on 23rd October and closes on 20th November.
Extra Help….
If we are successful in winning the grant for this project, it is just the beginning! We will need all kinds of help from our community to make it a reality. If you think that you might be able to help in any way, it would be fantastic if you could email Rachel or Kate on raw7@hotmail.co.uk or katecross99@googlemail.com.
It would be particularly amazing to find any willing carpenters (amateur as well as professional), electricians, painters and decorators, people with artistic skills for murals, anyone good with soft furnishings, project managers, or anyone with any skills which might be relevant to converting and decorating a bus!
We would love as many people as possible to get involved.
Speeding through the Village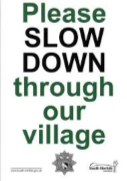 The SAM2 speed recording machines have been recording the numbers and speeds of vehicles through our village. Parish Councillor, Mark Tudor has given Bawburgh News the information from the machines. This data was recorded between 29th August and 2nd November and showed that 74,416 vehicles passed through the village.
On average, during the week days there were 1,196 vehicles and at weekends there were 1,123 vehicles per day. During the week the peak traffic is between 7am and 8am but at the weekend this changes to between 4pm and 5pm. The machines class a driver as speeding if they travel over 35 mph, despite the speed limit being 30 mph.
16% of all vehicles travelling through the village are speeding. The most number of speeding vehicles are recorded on Tuesdays. The average speed of speeding drivers is 39.2 miles per hour, quick enough to be prosecuted and quick enough to comfortably kill any pedestrian. The highest recorded speed in this period was recorded at 65 mph at 6am on the 12th September.
Mark said, "We continue to have a huge problem with speeding motorists. We have re-formed the Speedwatch Team and they will attend various sites across the village to capture driver information to provide to the authorities. If there are more than 11 instances of speeding in any vicinity then the Traffic Enforcement Team will attend and they have the powers to prosecute."
In Summary:
It is inexcusable to be speed in any village
It is totally unacceptable to be speeding in your own village!
So let's STOP speeding in Bawburgh!